250 Maine Gun Safety Coalition Supporters Attend Rally
at Maine State House on March 1, 2018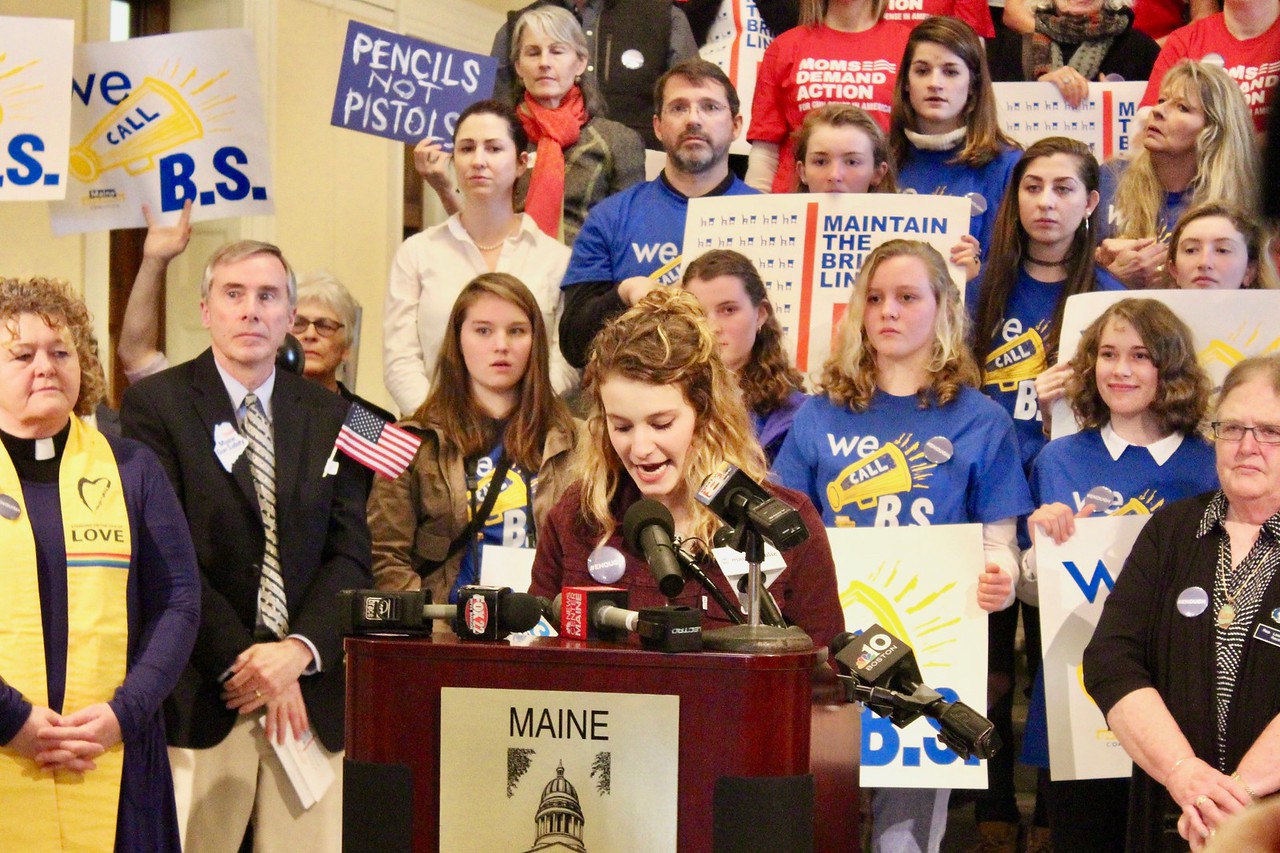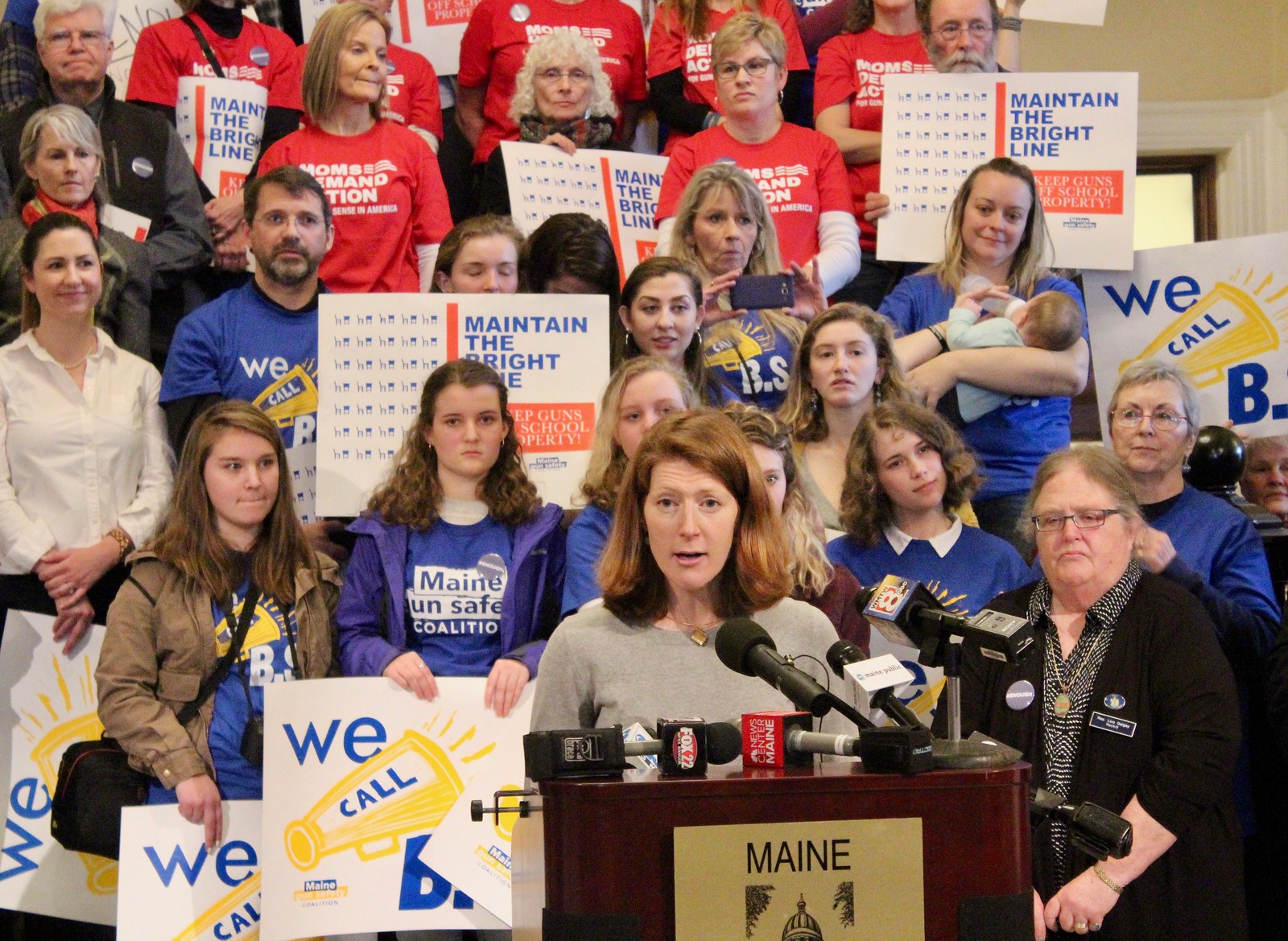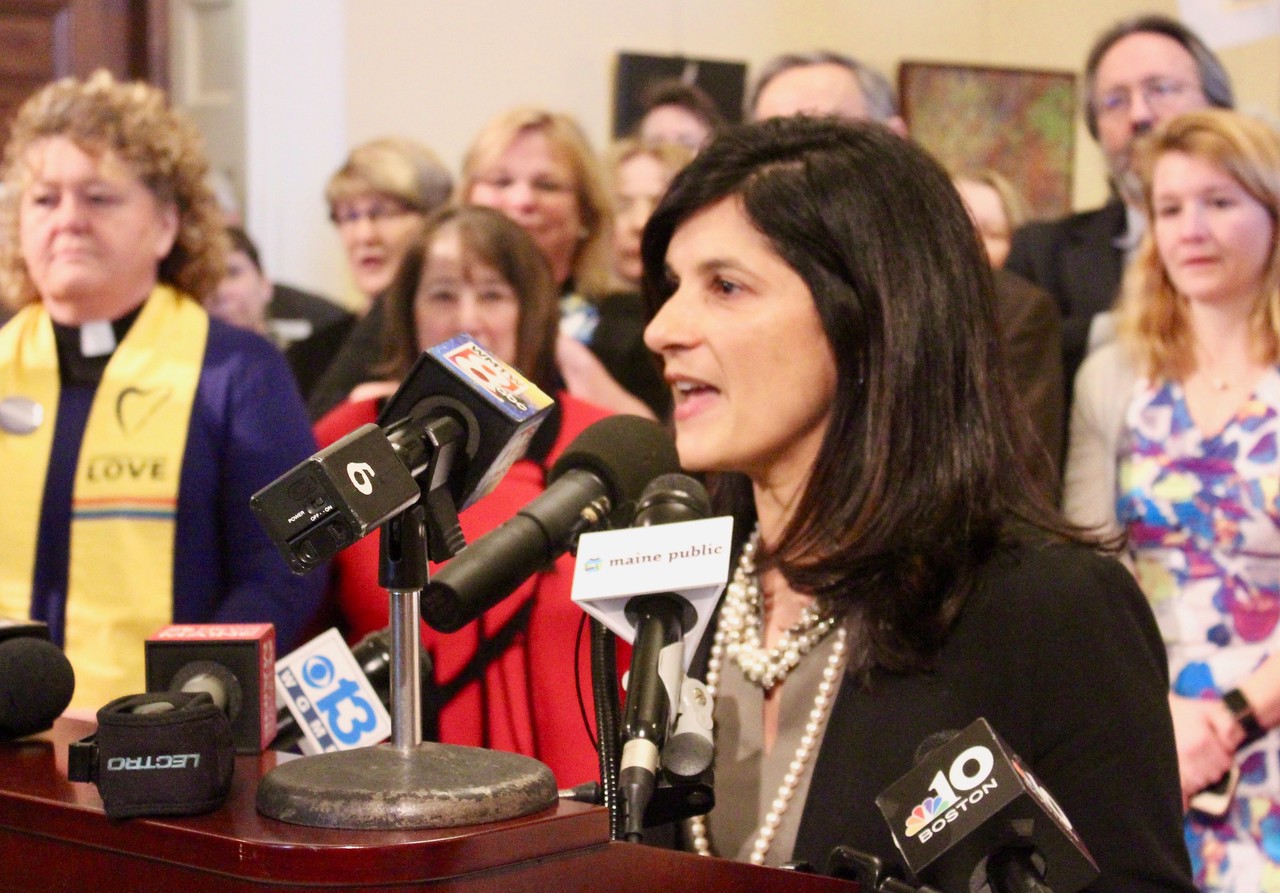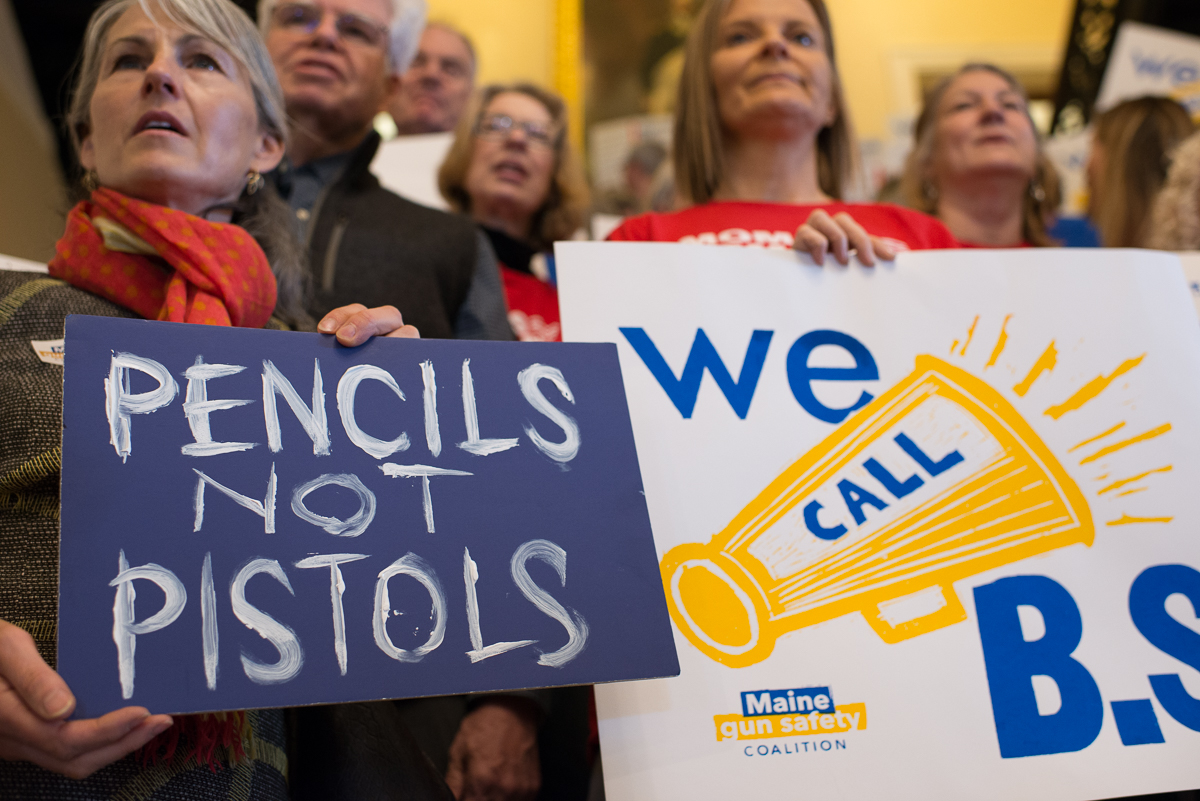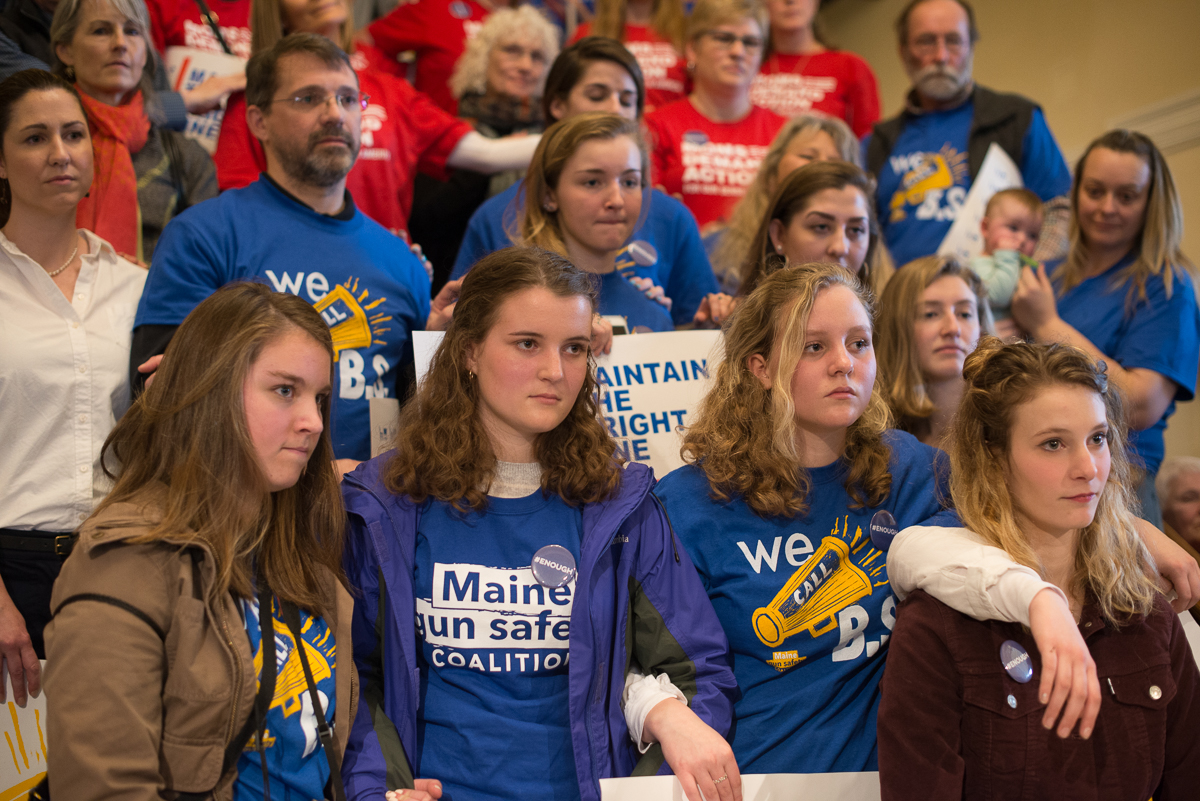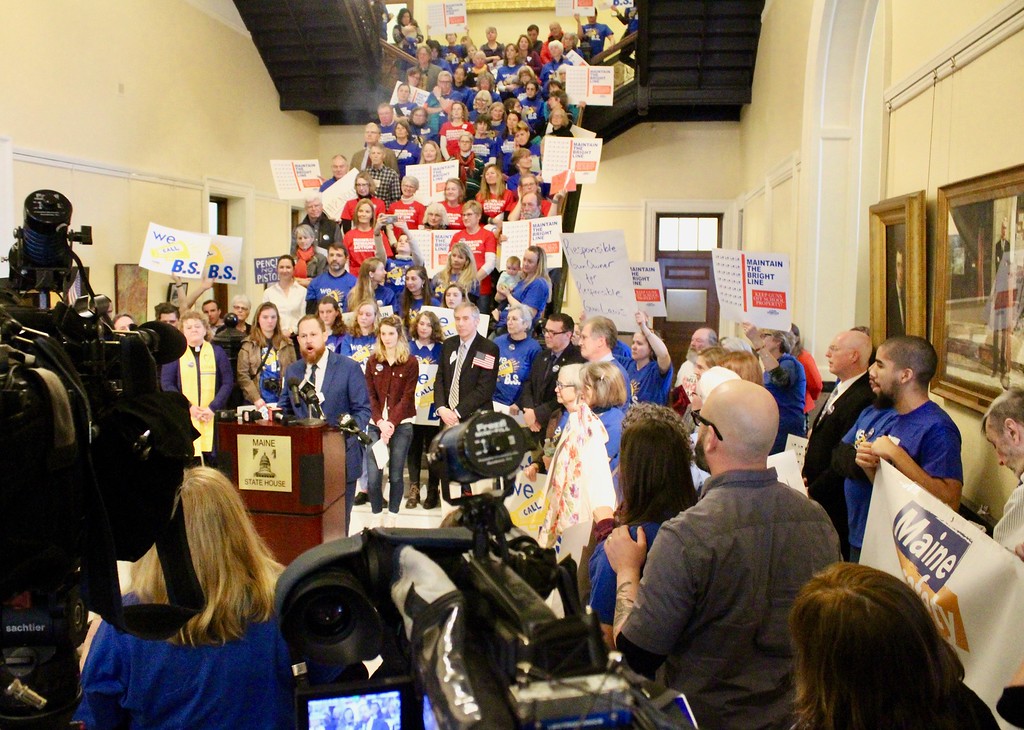 Images courtesy of Michele Stapleton & Roger Leisner, the Maine Paparazzi.
The Maine Gun Safety Coalition organized a "Keep Guns Out of Schools" rally at the State House on March 1, 2018 to defeat LD 1761 which would force K-12 schools to allow guns in school parking lots. Speakers at the rally:
Maine Speaker of the House Sara Gideon
Maine Education Association President Lois Kilby-Chesley
Parent, educator, and MGSC Board Member Camilla Shannon
Camden Hills Regional High School sophomore Pearl Benjamin
Omar Andrews, a University of Southern Maine student and Marine Corps veteran
Nick Wilson, Maine Gun Safety Coalition Executive Director
"Why do my classmates and I now expect regular 'lockdown' drills to prepare for the threat of an armed peer? Why have we been burdened with anxiety at our schools, afraid that ours might be the next to fall victim to an angry guy with a gun? The answer is simple: our safety is not a top priority for you. Legislators favor political power over our lives- accepting campaign contributions from the NRA, prioritizing industry profits over safety...

Legislators, it's time to pass common sense gun laws. It's time for universal background checks. It's time to ban high capacity clips. It's time to raise the minimum age for gun sales to 21. It's time to ban assault weapons. And it's time to dismantle the manipulative NRA. Take action while you still can, because if you don't fit into this new world we are creating, believe me, we will vote you out." - Camden Hills Regional High School Sophomore Pearl Benjamin. Read Pearl's full speech here.
"If you're 18 and you want to fire weapons, I've got some people
in dress blues that would love to talk to you."
U.S. Marine Corps combat veteran Omar Andrews and student at University of Southern Maine addressing the Gun Owners of Maine protesters in their orange "Guns Save Lives" t-shirts.
"We have to ask ourselves why we are making our kids suffer for the lack of responsibility of our government. Why are our kids braver when they go into school than we are when we cast our votes?" - Speaker Sara Gideon
LD 1761: An Act Regarding the Prohibition of the Possession of a Firearm on School Propert
LD 1761 will force K-12 schools in Maine to allow guns in school parking lots.
 
For several decades, Maine law has included a strict prohibition against bringing guns to school. LD 1761 would erase the bright line that prohibits weapons on school property.
 
As we have seen recently in Parkland FL and far too many other school shootings, keeping students safe from gun violence is challenging and allowing guns on school property will only make it more difficult for educators and law enforcement to keep our children safe.
 
At the public hearing on LD 1761, the Maine Principals Assn., Maine School Boards Assn., and Maine School Superintendents Association all urged the Education Committee to vote against the bill. Lawmakers ought to listen carefully to those who are responsible for the safety of Maine students.
 
Lewiston Superintendent Bill Webster explained to the Committee that once the school becomes aware of a firearm on or near school property, the immediate response is to contact the police and lockdown the school. If enacted, LD 1761 would lead to more police calls, more lockdowns, and more anxiety for students, staff and families.
 
The proponents of LD 1761 are concerned that a gun owner might be criminally prosecuted for driving onto school property, forgetting there is a gun in the vehicle. However, there have been no reported cases of such a criminal prosecution. LD 1761 is the proverbial "answer in search of a problem."
 
LD 1761 is being supported by the corporate gun lobby. The NRA has introduced bills in at least 23 other states to allow guns on school property this year. Their out-of-state lobbyists have traveled to Augusta to politically pressure legislators to support the bill. Lawmakers need to stand up to the gun lobby and take meaningful action to keep Maine's children safe.

Key Quotes from LD 1761 Public Hearing
"We believe that to protect students from unintended or intended harm there has to be a bright line. No guns on school property. Period." - Steven Bailey, Maine School Boards Association and Maine School Superintendents Association.
"Let's provide the safest of all environments and continue the prohibition of firearms on school property as required in present statute. Let's not add to the responsibilities of administrators and others as to checking whether firearms are loaded or unloaded, and locked or unlocked. Let's keep student and staff safety first!" – Dick Durost, Executive Director of the Maine Principals' Association
"First, let me say that l wholly disagree with gun control. I grew up hunting in Aroostook County… As a hunter, a mother, and school official I ask that you oppose L.D. 1761 for the sake of Maine's children. We will have to apply our right to bear arms at other times and in other locations that don't put our youth in unnecessary risk." – Christine Boone, Glenburn Superintendent of Schools
"We believe the current prohibition of guns on school property makes a tragedy less likely to happen. And, it maintains that bright line to discourage future encroachments on a law, which is not a panacea, but one step in protecting our children from what is no longer the unimaginable." – Katy Grondin, Auburn Superintendent of Schools
South Portland School Superintendent Ken Kunin said that he and South Portland Police Chief Ed Googins "both agree that the most troubling aspect of this law is that it prioritizes convenience over safety. We both agree we must maintain the very bright line that prohibits weapons on school property, not create unnecessary exceptions."

"Allowing the person to own and possess a firearm isn't the issue, it's the not knowing what the intent of the person driving up to the school with that gun is. Our jobs are hard enough, please don't make them harder by raising our safety concerns within our school communities. The clear line exists now, not to allow firearms on school property. They need to stay that way." - Dr. Cheri Towle, Brewer Superintendent of Schools
"If anyone sees a firearm on or near school property, our immediate response is lockdown. Student safety is paramount. This happened twice last year in Lewiston. This bill, if based, will only increase the anxiety for students, staff and families as we have no way of differentiating between the potential school shooter and the person who might meet the conditions cited in this bill. We will continue to contact the police and lockdown the school. To do otherwise would be irresponsible." – Bill Webster, Lewiston Superintendent of Schools
"At its worst, LD1761 is about pushing the NRA s political agenda of normalizing the presence of life threatening firearms in all sectors of American society. At its best, sadly, it's about parents who think their priorities - in this case, shirking their responsibility to clean out their cars before they pick up their children at school - are more important than our children's safety." – Senator Cathy Breen